August 17, 2020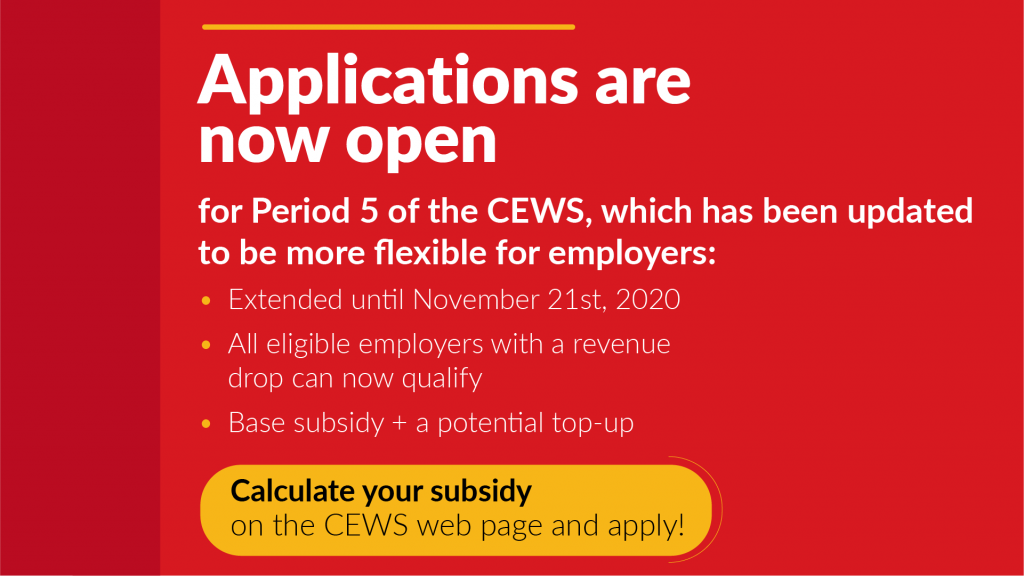 The Canada Emergency Wage Subsidy has supported over 3 million businesses all across Canada to help workers stay on payroll and to assist in these difficult times. While we are in a re-opening stage for businesses, we hope to broaden the reach of the Canada Emergency Wage Subsidy program to provide targeted support so more workers can return to their jobs in a timely and safe manner.
CRA has opened applications for period five of the Canada Emergency Wage Subsidy. The changes to the Canada Emergency Wage Subsidy include the following.
Extending the subsidy until November 21, 2020.
Ensure all eligible employers that are facing a revenue loss can qualify. Broadening of the program by providing a gradually decreasing base subsidy to all eligible employers that are experiencing a decline in revenues. This will help many struggling employers with less than a 30-per-cent revenue loss get support to keep and bring back workers, while also ensuring those who have previously benefited could still qualify, even if their revenues recover and no longer meet the 30 per cent revenue decline threshold.
Introduce a top-up subsidy of up to 25% to those who have been the hardest hit by the pandemic.
Providing certainty to employers that have already made business decisions for July and August by ensuring they will not receive a subsidy rate lower than they would have under the previous rules. Even as businesses recover those using the program can continue to receive federal support.
For more information click here.
CEWS Calculator
The new and improved CEWS calculator will help large and small businesses prepare to apply for the CEWS. The calculator found on CRA's website uses a step-by-step approach to get employers to enter information about their business situation to provide an estimate of the subsidy they can expect to receive.