Here are the federal initiatives currently in place to assist and support seniors. If you have any questions please email [email protected].
In September, Minister of Seniors Deb  Schulte announced over 1,000 new projects delivered by community organizations across the country to support seniors during the COVID-19 pandemic.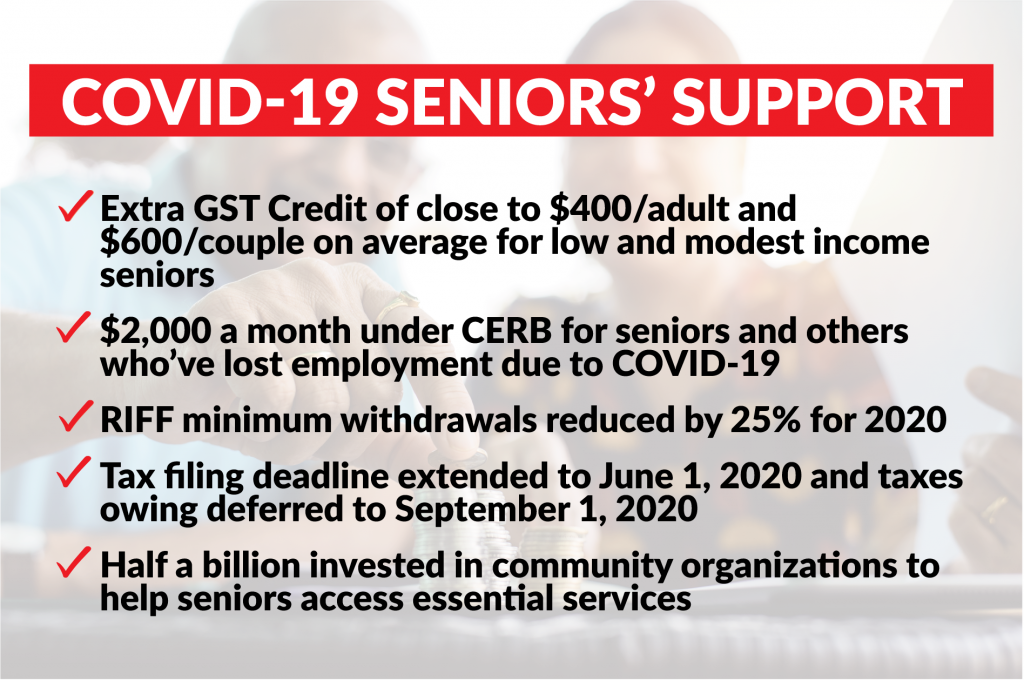 Old Age Security and Guaranteed Income Supplement Top-Up
There will be a one-time tax free payment of $300 for seniors eligible for OAS with an additional $200 for seniors eligible for GIS. This is a total of $500 to individuals who are eligible to receive both OAS and GIS, and will help cover the increased costs of living due to COVID-19. It will be distributed to eligible seniors the week of July 6th.
Registered Retirement Income Funds
We are reducing the minimum withdrawals from RRIFs by 25% for 2020 due to market conditions and their impact on many senior's retirement savings.
New Horizons for Seniors Programs
The program has been expanded with an additional investment of $20 million to support organizations that offer community-based projects that assist seniors. Services that will be considered are delivery of groceries, medications or other items.
GST Credit Top-Up
For low and modest income seniors there is a supplementary payment under the GST Credit of close to $400 per adult and $600 per couple.
Long Term Care Homes in Quebec 
The Canadian Armed Forces will be phasing out the additional duties they have taken on in long term care homes in Quebec. Our support for these vulnerable seniors will continue through funding the Canadian Red Cross to rapidly scale up a new humanitarian workforce to support these facilities. This will allow most CAF members to transition back to their regular duties after appropriate isolation periods, while maintaining a small reserve force available if there is a resurgence or new outbreak.
Please read the news release for more information.