Here are the federal initiatives currently in place to assist and support seniors. If you have any questions please email [email protected].
In September, Minister of Seniors Deb  Schulte announced over 1,000 new projects delivered by community organizations across the country to support seniors during the COVID-19 pandemic.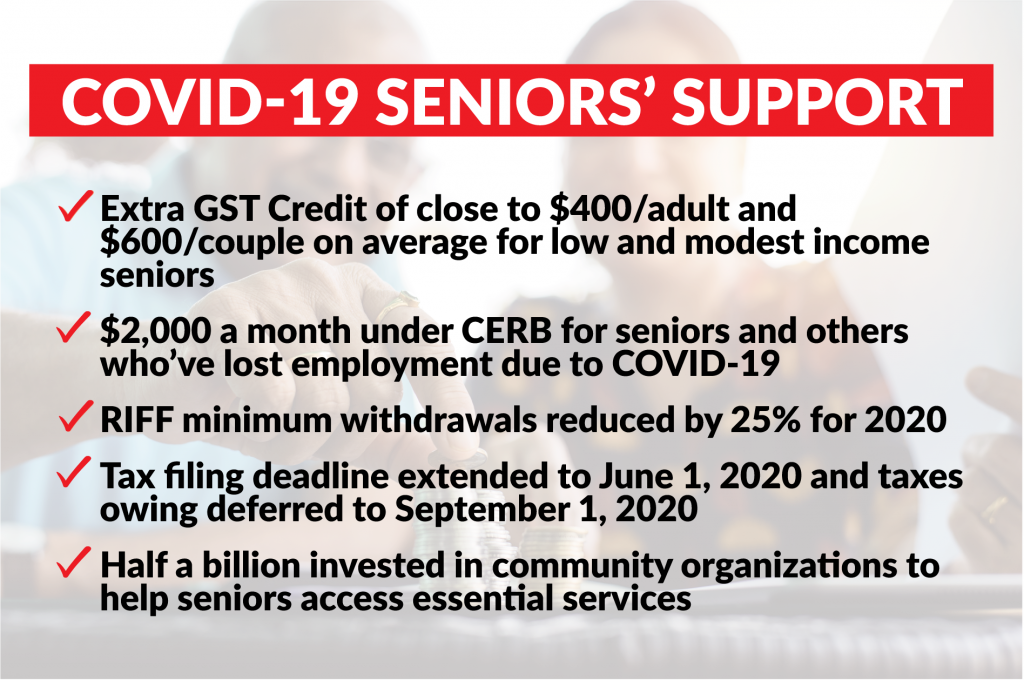 Old Age Security and Guaranteed Income Supplement Top-Up
There will be a one-time tax free payment of $300 for seniors eligible for OAS with an additional $200 for seniors eligible for GIS. This is a total of $500 to individuals who are eligible to receive both OAS and GIS, and will help cover the increased costs of living due to COVID-19. It will be distributed to eligible seniors the week of July 6th.
Registered Retirement Income Funds
We are reducing the minimum withdrawals from RRIFs by 25% for 2020 due to market conditions and their impact on many senior's retirement savings.
New Horizons for Seniors Programs
We are expanding the New Horizons for Seniors Program with an additional investment of $20 million to support organizations that offer community-based projects that reduce isolation, improve the quality of life of seniors, and help them maintain a social support network.
For all organizations who received funding under the 2019-2020 New Horizons for Seniors Program community-based stream, funding can be used to provide immediate and essential services to seniors impacted by COVID-19.
GST Credit Top-Up
For low and modest income seniors there is a supplementary payment under the GST Credit of close to $400 per adult and $600 per couple.
Supporting Delivery Items and Outreach
We are contributing $9 million through United Way Canada for local organizations to support practical services to Canadian seniors. These services could include the delivery of groceries, medications, or other needed items, or personal outreach to assess individuals' needs and connect them to community supports.
Contact your local organization: https://www.unitedway.ca/how-we-help/find-your-uwc/